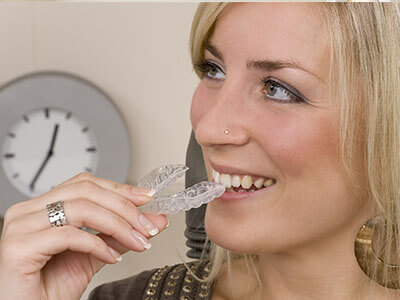 What is Invisalign?
Invisalign is the invisible way to straighten teeth without braces. Invisalign uses a series of custom-made, clear removable aligners to gradually straighten teeth without metal wires.
How does Invisalign work?
Invisalign uses 3-D computer imaging technology to show the complete treatment plan from the initial position of the teeth to the final desired end result. Each aligner moves the teeth incrementally and is worn for 2 weeks, at which time it is replaced by the next aligner in the series until the final position of the teeth is achieved.
What are the benefits of Invisalign?
Invisalign is clear. You can straighten your teeth without anyone knowing.
Invisalign is removable. Unlike braces, you can eat and drink anything. You can also brush and floss normally to maintain good oral hygiene.
Invisalign is comfortable. There are no metal brackets or wires to irritate the mouth.
Invisalign allows you to view your own virtual treatment plan before you start, so you can see how straight your teeth will look when your treatment is complete.
If you're ready for a smile that transforms your appearance, Invisalign is your answer. Although there are many choices out there, no other works as effortlessly as the Invisalign system.